GEOMARKETING APPLICATION FEATURES
From site selection to strategic location planning
Quickly analyze any location with demographic, traffic, and business data
Find best locations based on your target profiles
Analyse your footprint and your competitors' presence

Identify untapped potential at store level

Optimise your coverage and build optimal expansion plans
Book a customized demo of Symaps today to discover full features !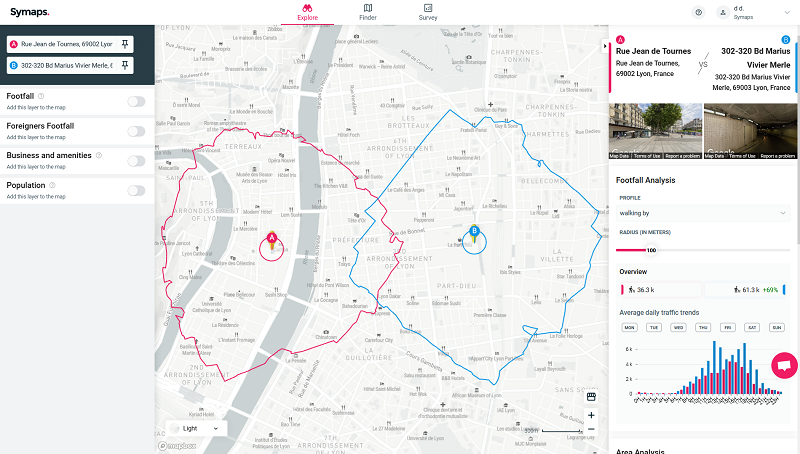 Evaluate market potential with population, footfall and business data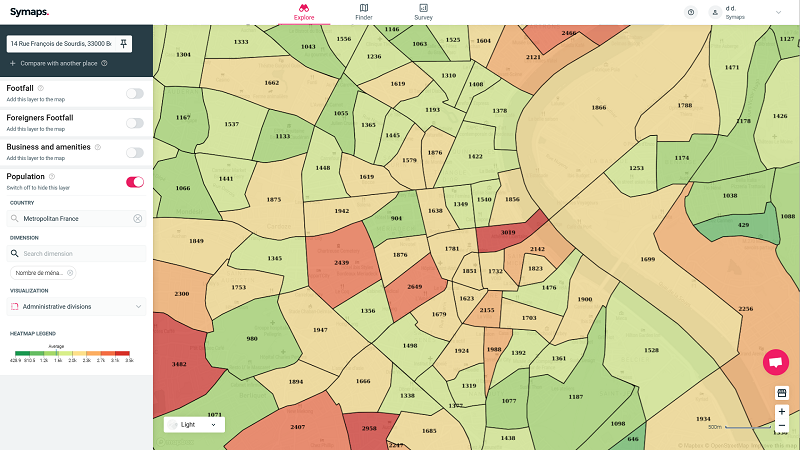 Population & socio-demographics
– Assess the size of the market and the number of potential customers in your target
– Detailed socio-demographics: total population, number of households, age distribution, income distribution, etc.
– Regularly updated data, based on national censuses (Insee,…) and worldwide statistics
Footfall and Traffic Data
– Pedestrian and vehicles footfall at street level
– Identify traffic patterns and most frequented areas
– 100% GDPR compliant (anonymized data from mobile phones)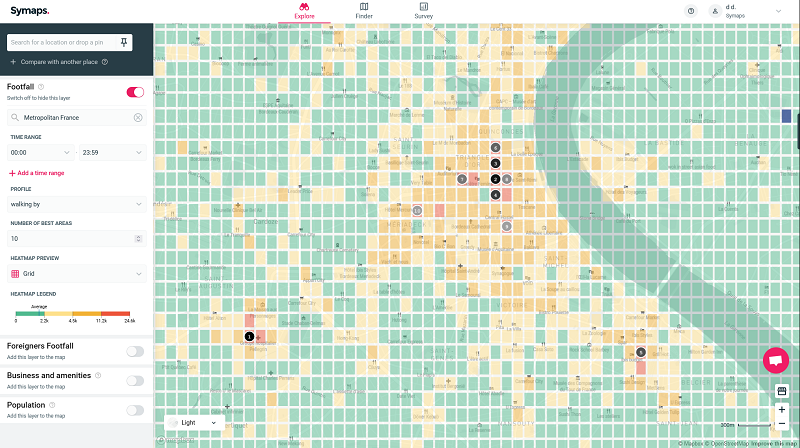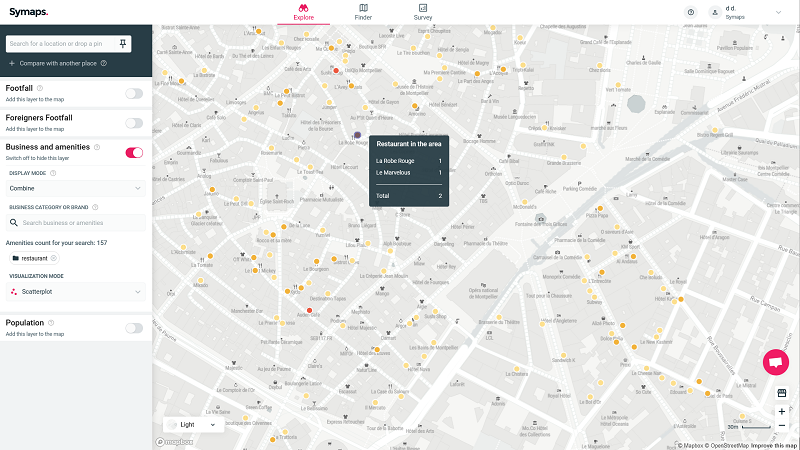 Competitive environment: business & amenities
– Check the location of your your direct and indirect competitors
– See which other retailers and points of interest already exist in the area, by brand or type (restaurant, hospital…)
– Develop your local market knowledge to evaluate your market share
Add layers of geodata and display them on the map in a glimpse
Catchment areas and isochrones
– Choose your travel time by foot, bicycle or car
– Display trade areas (isochrones) around any point
– Get information on population, footfall, business and amenities within the zone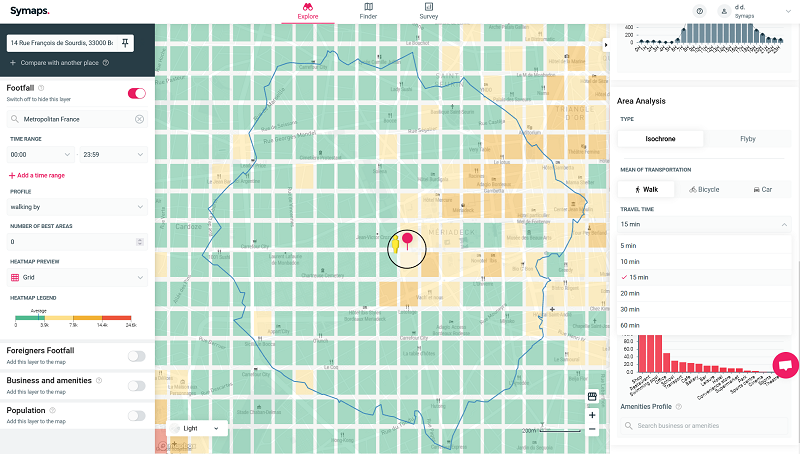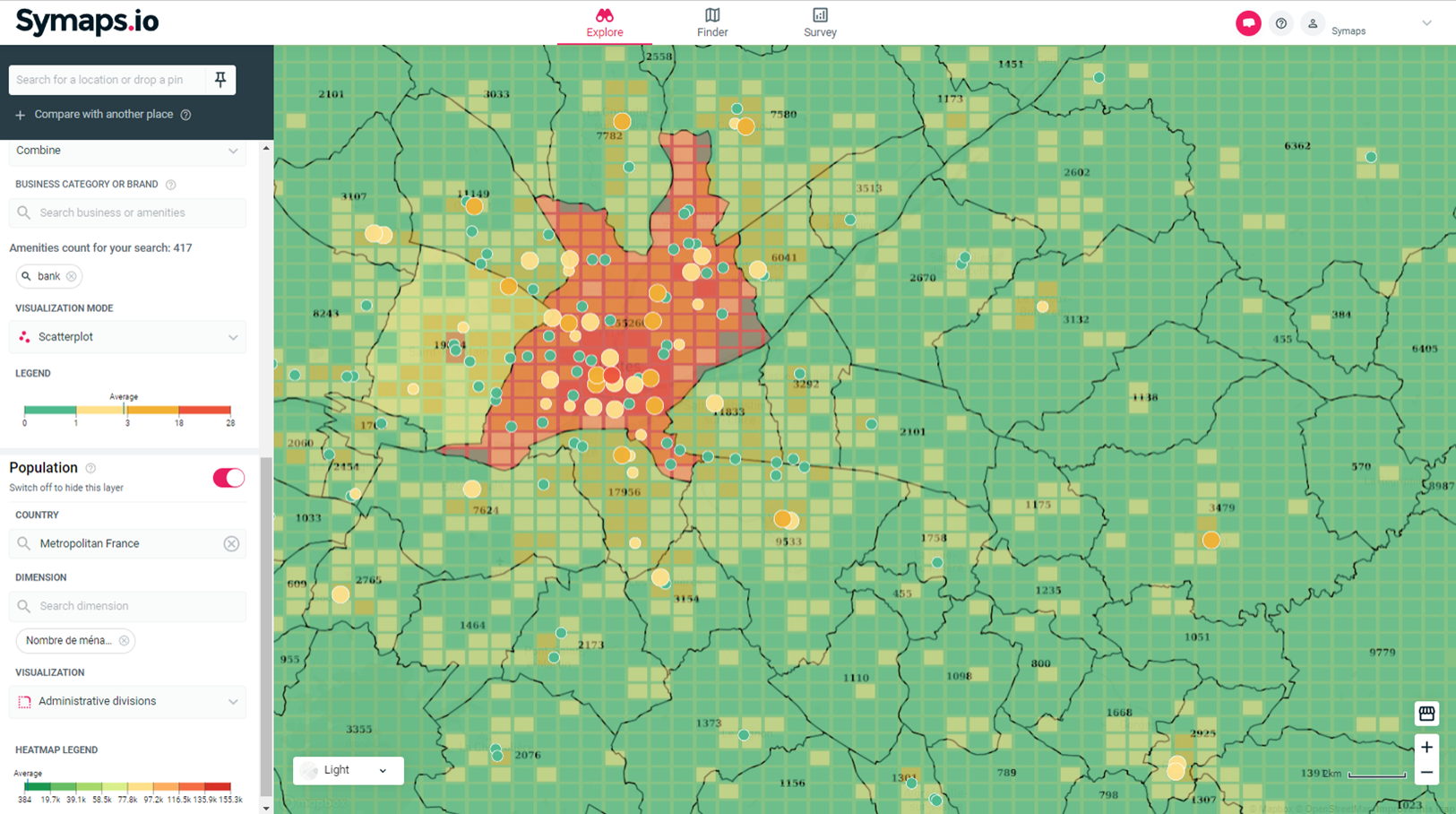 Add layers of data on the map
– Add or hide layers of data on the map according to your analysis
– Available data: population profiles, pedestrian and car traffic, businesses, amenities
– Upload your own stores' KPIs and display them on the map
For site selection and coverage diagnosis
Benchmark with competitors
– Benchmark your coverage with competitor's footprint
– Analyse coverage and penetration rate on selected target profiles
– Identify overlaps with main competitors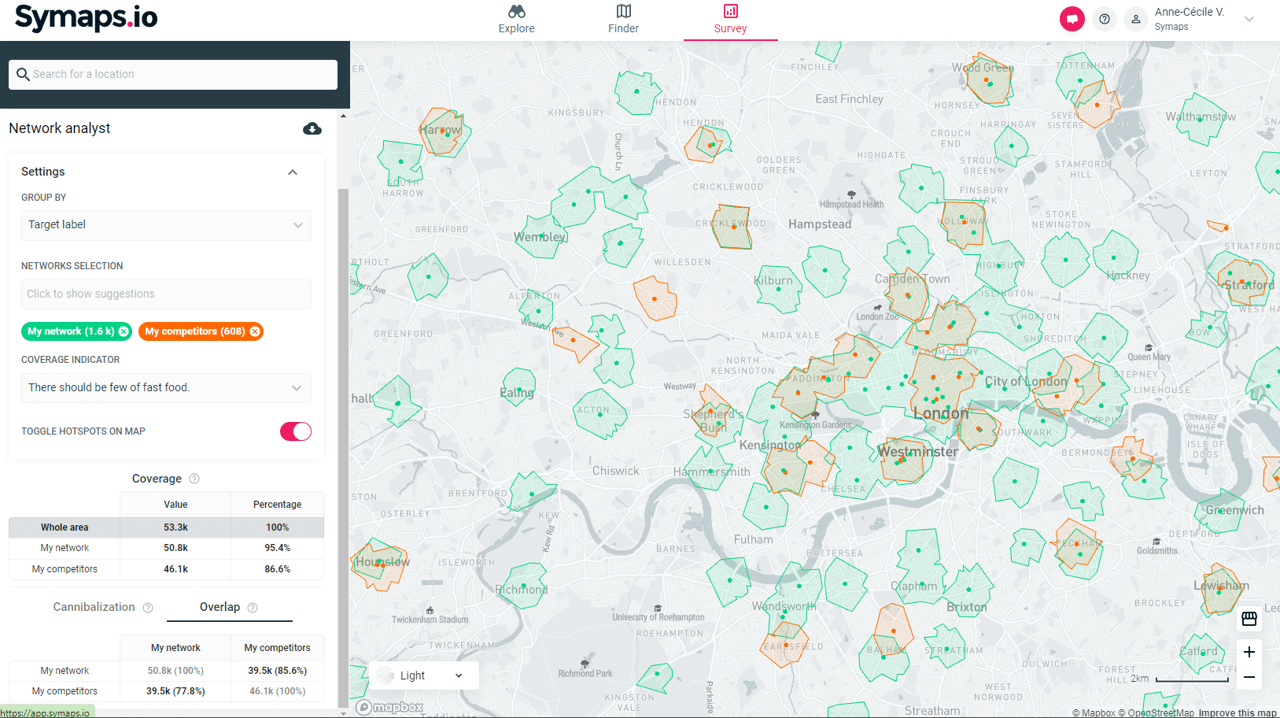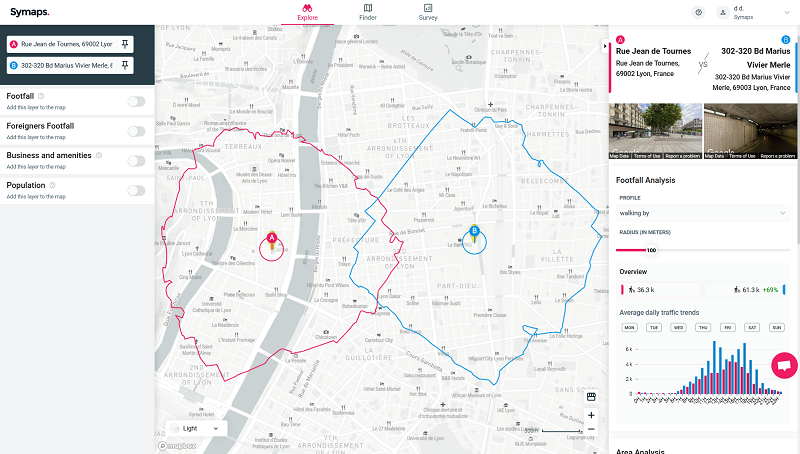 – Select two locations directly on the map
– Display trade areas and get instant comparison of their population profile, footfall and competitive environment
Use AI to plan your expansion and optimise your current coverage
Optimise your existing network
– Assess overlaps with competitors and white zones to identify untapped opportunities
– Evaluate internal cannibalisation
– Identify your touchpoints' maximum potential and target your actions for under-performing ones
– Less stores but better located: let AI optimise your coverage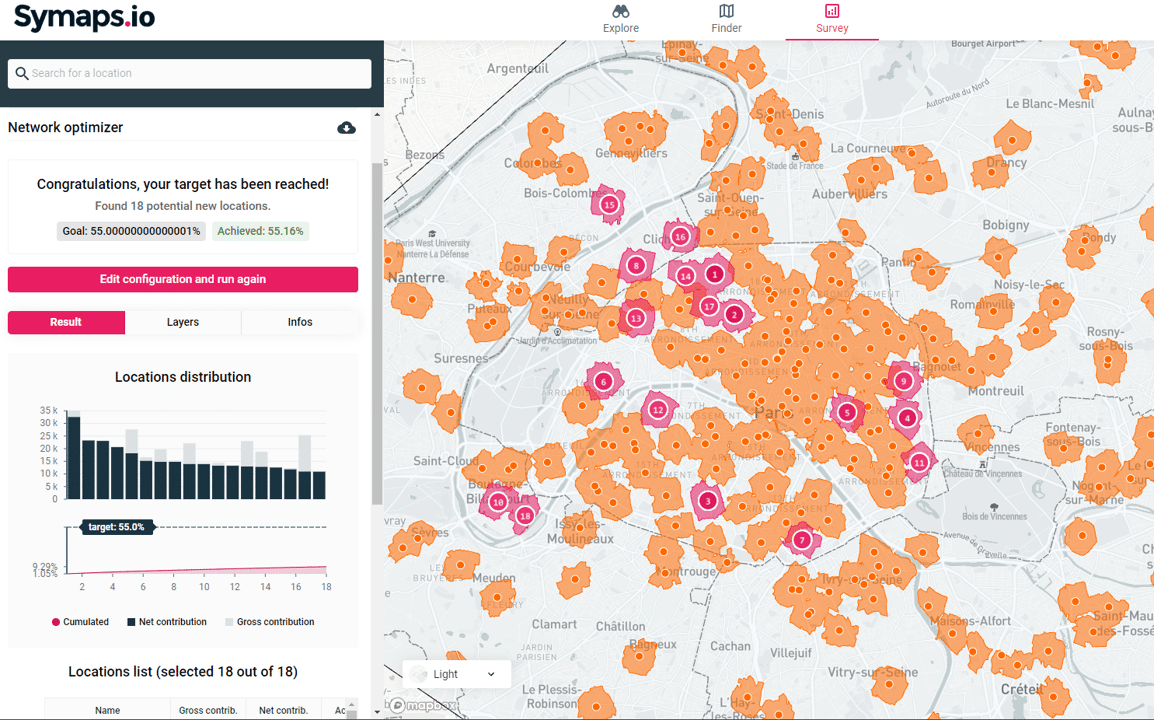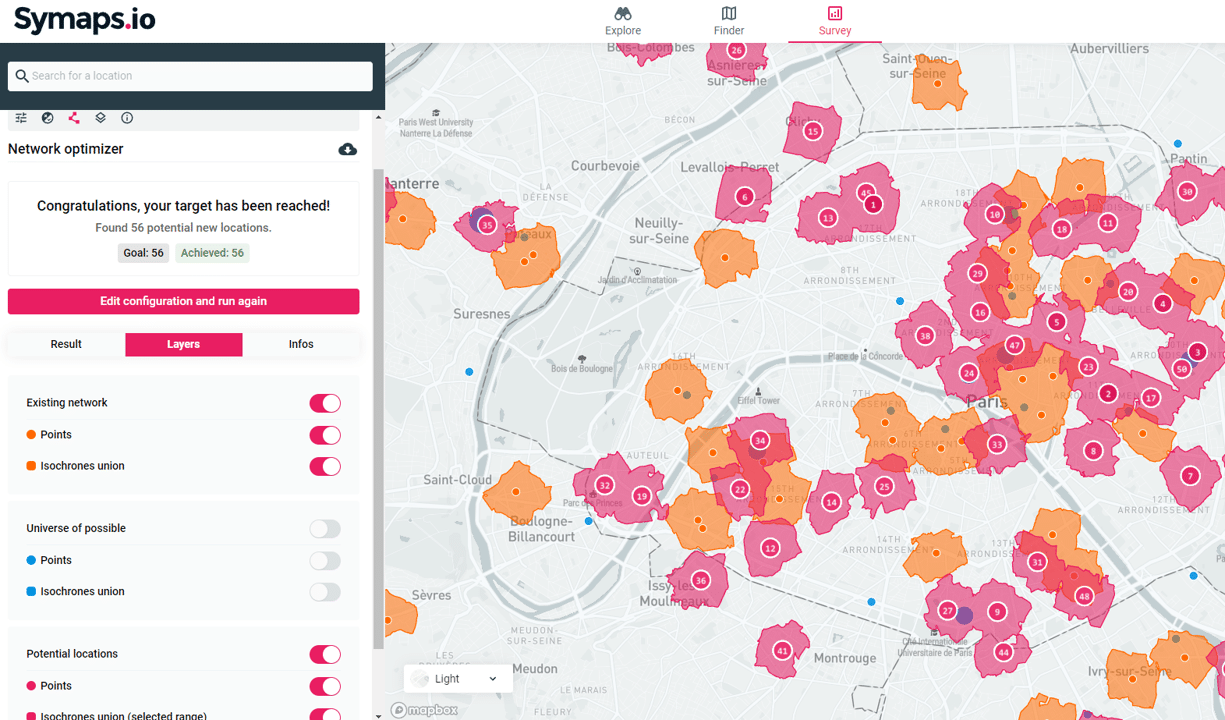 Build optimal expansion plans
– Find out the number of stores needed to reach your coverage targets and where to locate them
– Simulate expansion scenarios with revenue prediction
– Spot white zones and analyze the potential of new geographical areas
– Correlate the drivers of your stores performance with geolocalised data to replicate your successes
Determine the best areas according to your profile
– Choose your criteria: population profile, footfall, business & amenities, competitive pressure, etc.
–  Get ranking on best locations matching your requirements
– Ex: show areas where the number of people walking by is high between 10:00 and 18:00 AND where there are few restaurants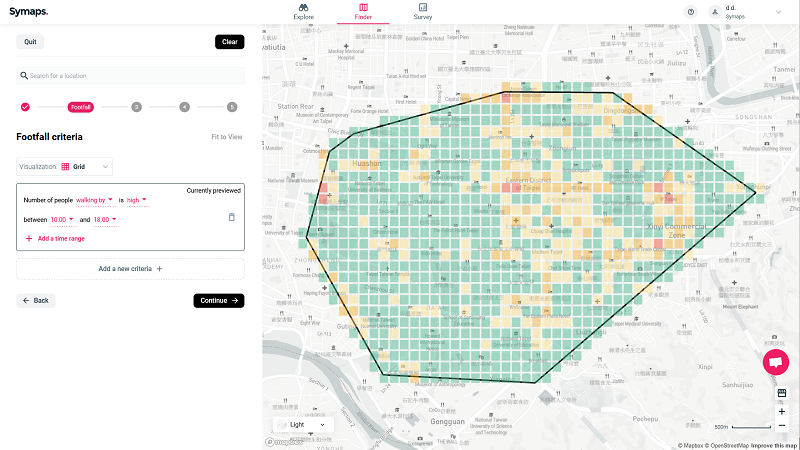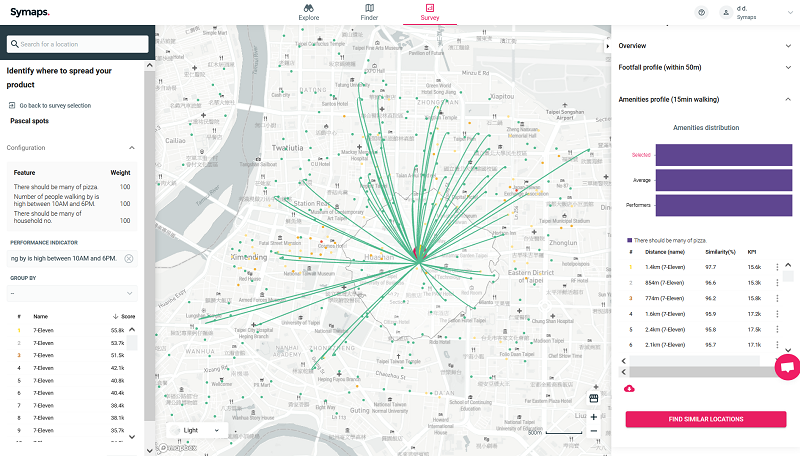 – Select one of your most successful locations
– Find "twin locations" with similar profile
– Segment your locations and get aggregated KPI's
Add your own data to carry out in-depth geomarketing studies
– Upload and visualise your own lists of locations and store KPIs (location, size, turnover,…)
– Enrich your own data with geodata from the platform
– Use enriched data for your coverage and expansion analysis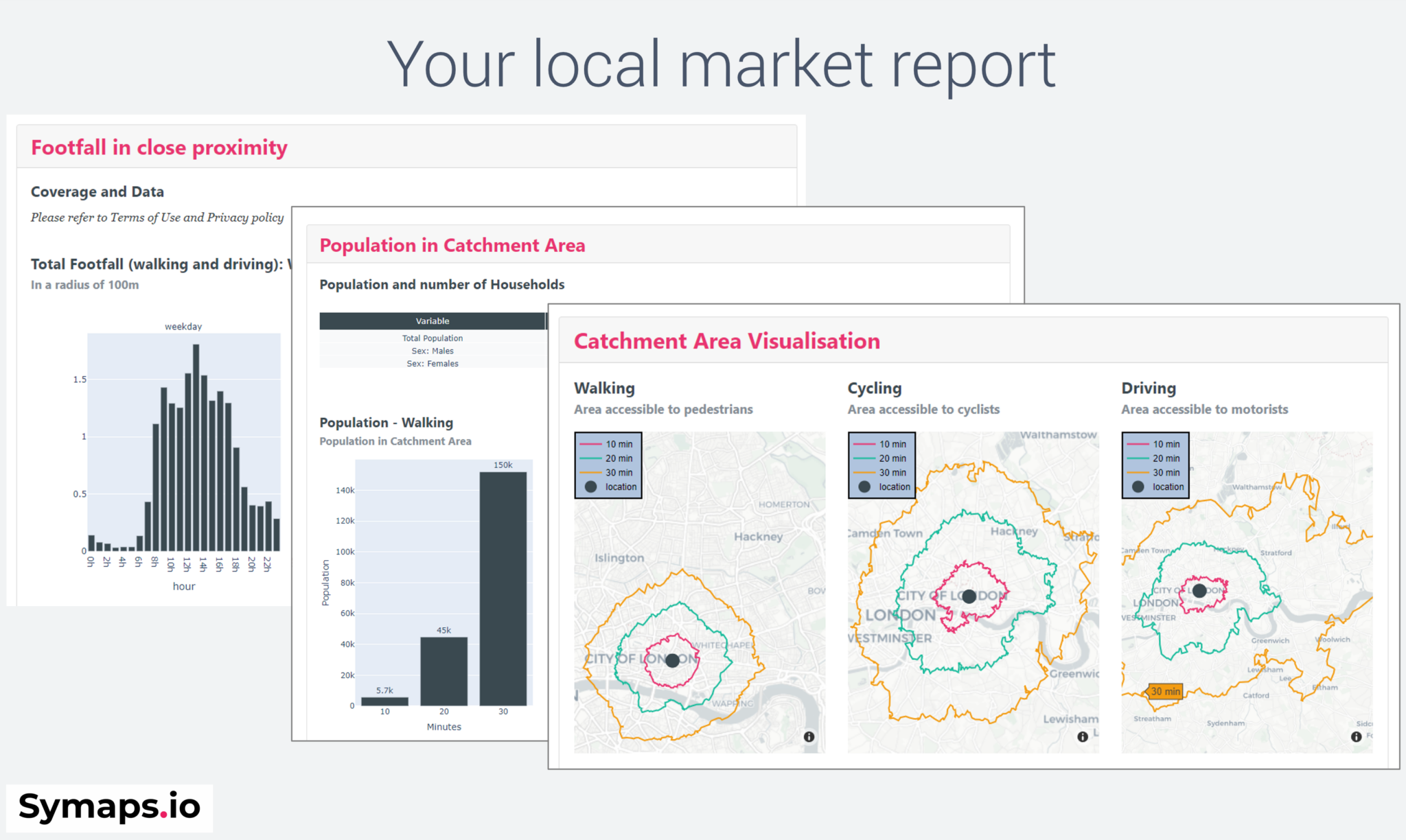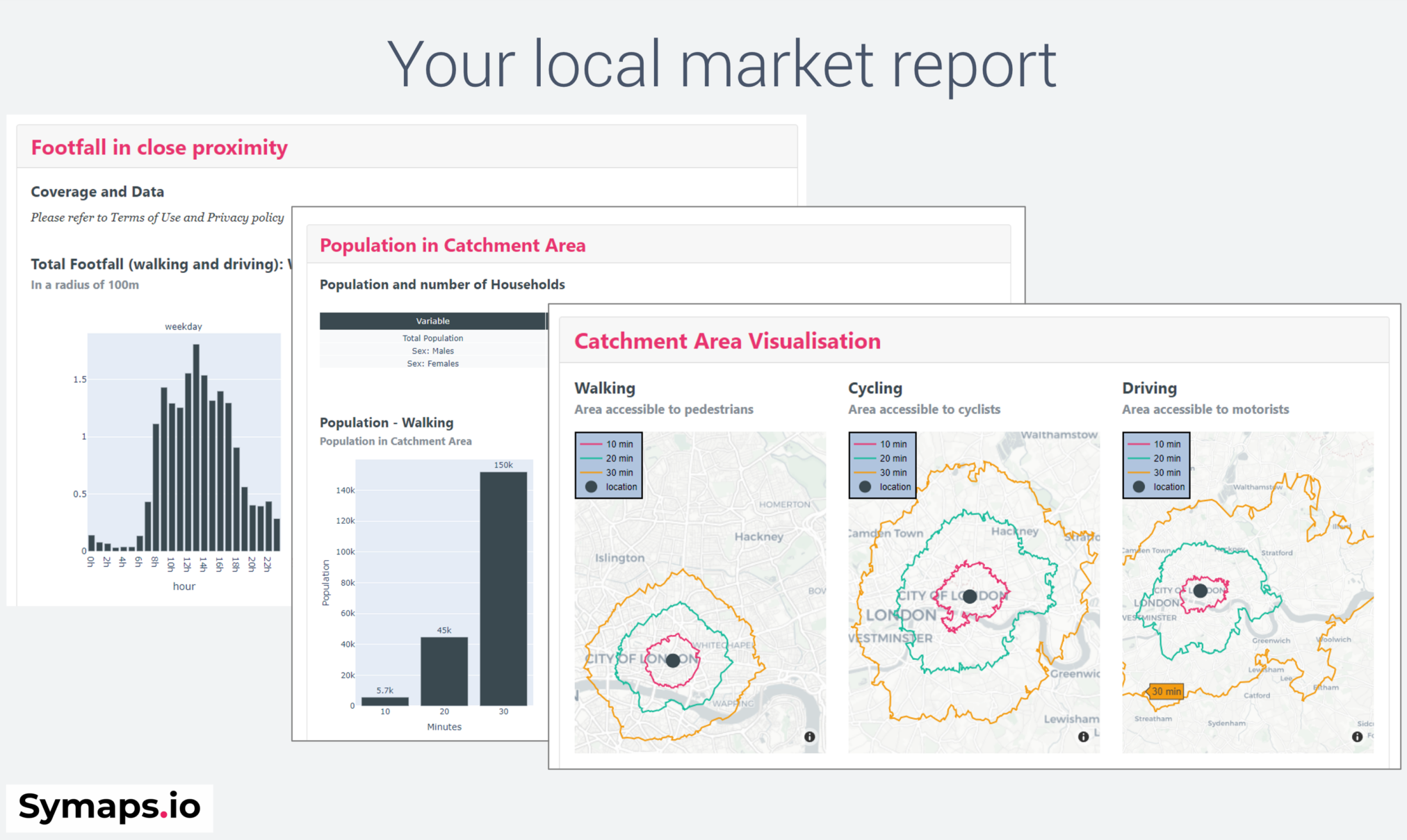 – Easily export maps and analysis results for your internal reports
– Download location reports for your local market study (special franchises)
Book a Call and a Free Demo
Let's talk about your project by phone during a 30 minutes call
Get a personalised live demo
Learn more on how to save time and money for your location decisions thanks to Symaps' AI based solution