Discover Symaps.io location intelligence platform features
Visualise catchment areas and isochrones
Key indicators: footfall, amenities and population data (demographics)
Compare locations on the map
Combine and rank the importance of success criteria (footfall, business & amenities, local population, etc.)
Create and store your own success criteria
Find the best location in an area or a list of points, matching your success DNA
Store and visualise your network and KPIs
Segment your locations and get aggregated KPIs
Find similar locations based on successful location profile
Want to see it in action? Contact us and schedule a free demo with our team.
Visualize your catchment areas and isochrones
Our platform lets you visualize areas and territories maps enriched with Symaps geomarketing data, including:
– people flow analysis : footfall by car and by walk
– population data and detailed demographics
– business & amenities: points of interest and other retailers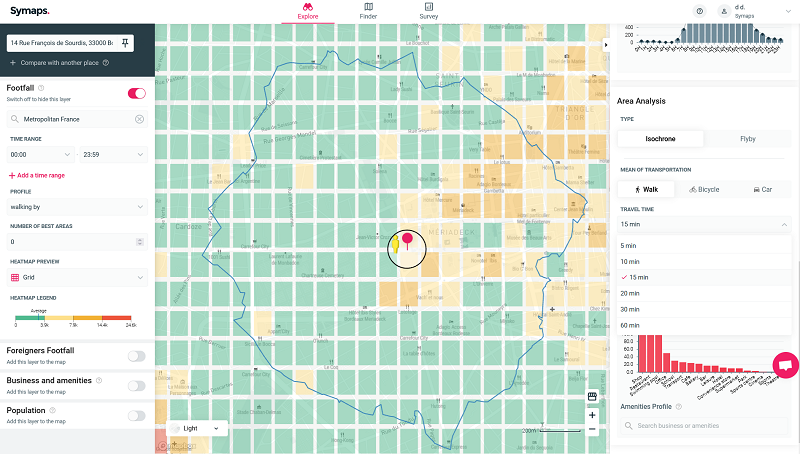 Analyse business potential for a specific address
Focus on a specific address and get all key indicators for your catchment area, including global population, amenities and a footfall heatmap linked to this location.
Add layers in a few clicks to visualise data directly on the map.
National censuses and worldwide statistics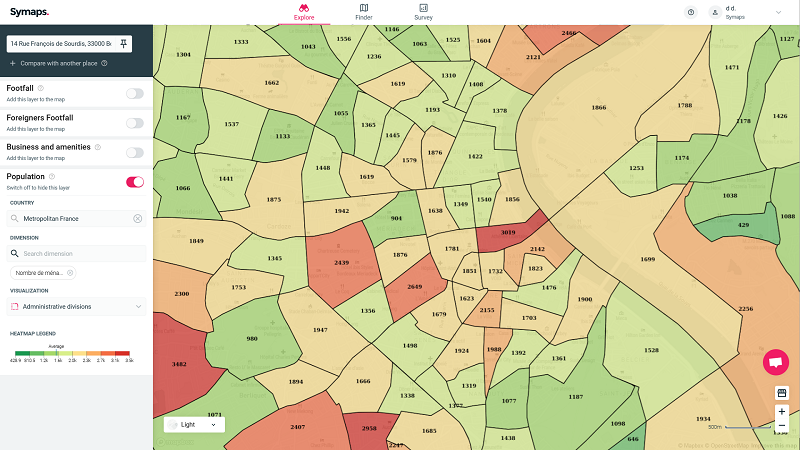 Points of interests and other retailers, by brand or by type (restaurant, hospital…)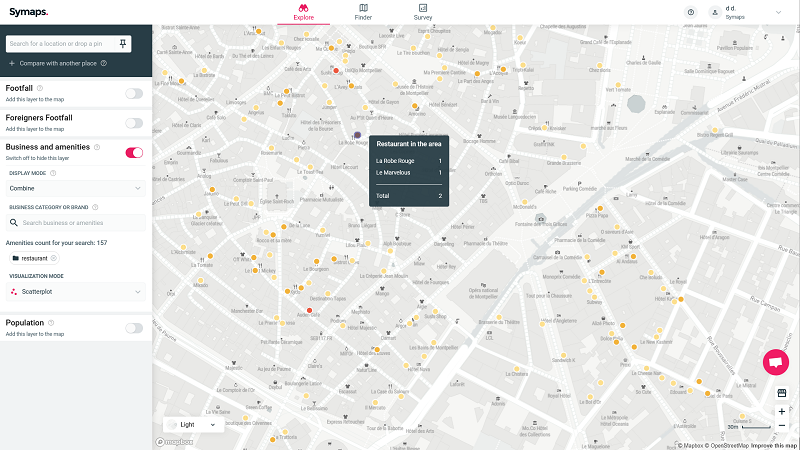 High granularity footfall
People flow : number of people and when they pass by. On foot or by car.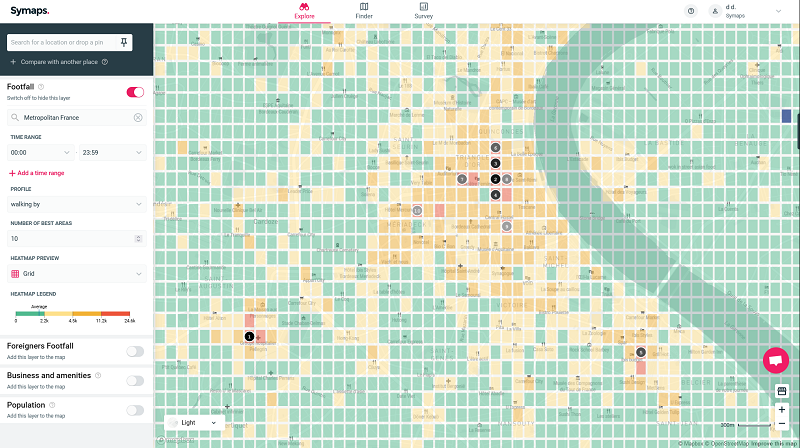 Compare locations on the map
Easily compare two locations with reliable geomarketing data to evaluate their business potential.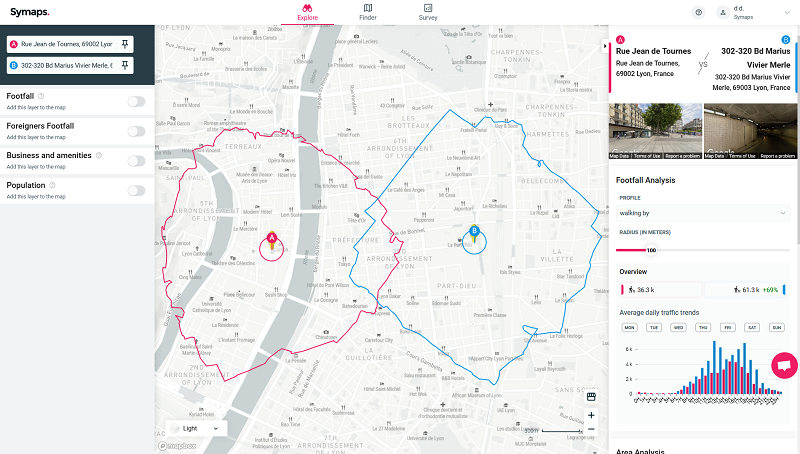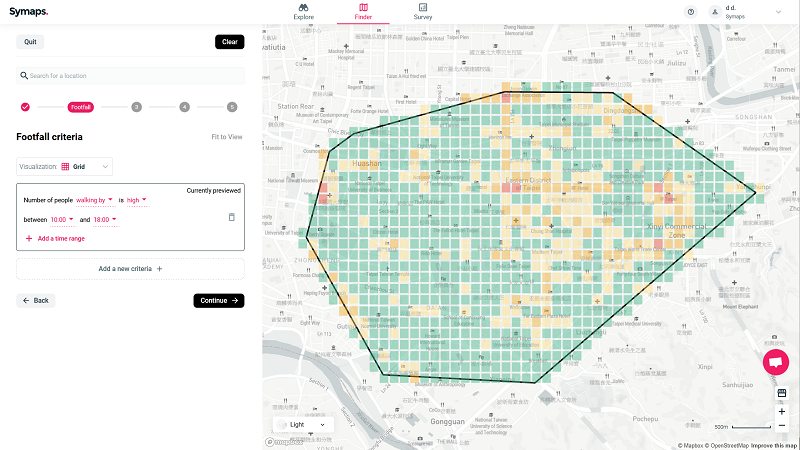 Find the best location matching your own success criteria
Create and store your own success criteria (footfall, business & amenities, local population etc.)
Find best location in an area or a list of points, matching your success DNA.
Define an area or a list of points and download excel location report with detailed criteria and scoring.
Ex: Footfall criteria : show areas where the number of people walking by is high between 10:00 and 18:00.
Store and visualise your distribution network and your KPI's.
Segment your locations and get aggregated KPI's.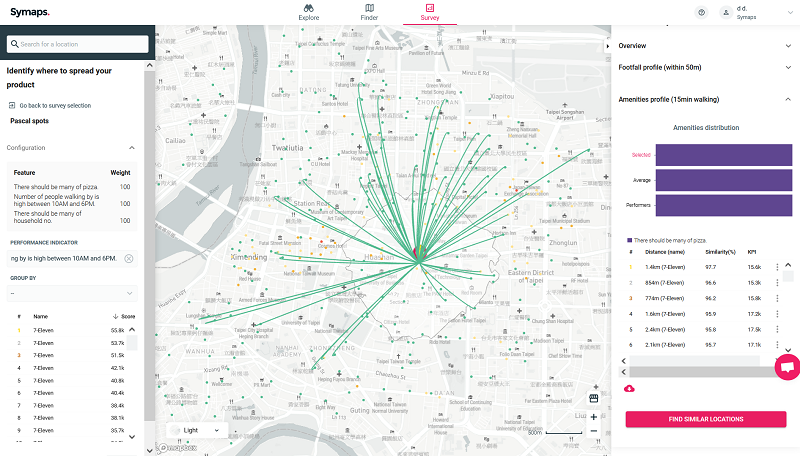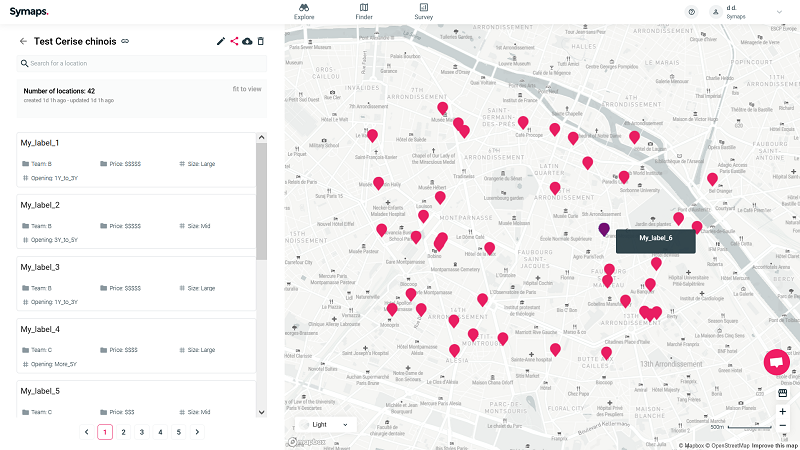 Go one step further in your distribution network management
My Location feature allows you to upload, store and manage your own lists of locations.
Re-use them with previous features (Explore, Finder and Survey) to enrich your data.
Attach your KPIs to your locations.
Wondering what Symaps could do for your brand?
Our team can help you evaluate the solution that better fits your needs.
Direct or indirect distribution network management and expansion, market study at local or international level or tailored analysis.
Discover with our team all of what our location intelligence platform can do for your brand.