GEOMARKETING APPLICATION FEATURES
From site selection to strategic location planning
Quickly analyze a location with demographic, traffic, and business data
Determine the best locations based on your target profiles
Perform in-depth coverage analysis to optimise your network and monitor its performance
Identify key success factors for your top locations and replicate your successes
Book a customized demo of Symaps today and experience its full potential firsthand!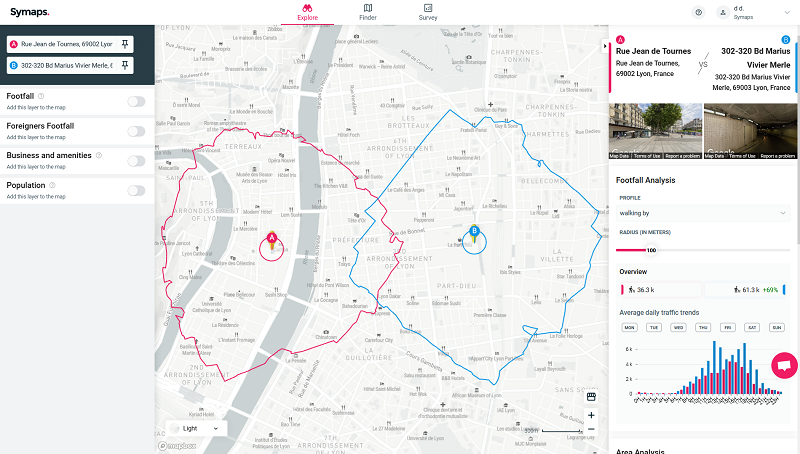 Start with key indicators to evaluate potential customers and the market volume forecast for any location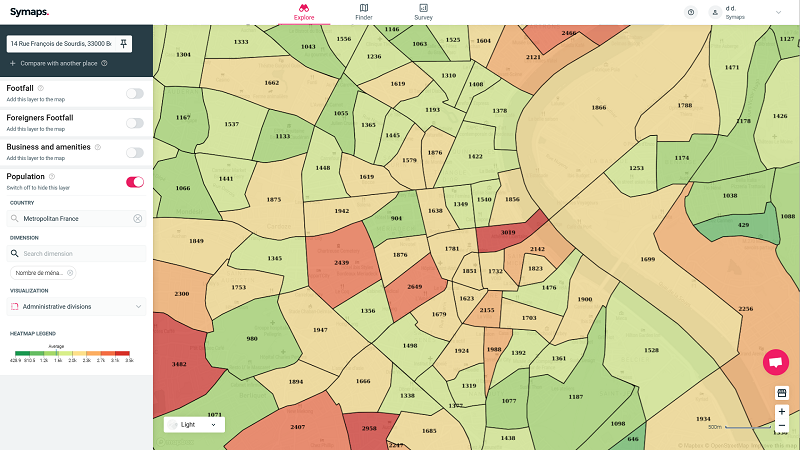 Population & socio-demographics
Assess the size of the market and the number of potential customers in your target
Detailed socio-demographics: total population, number of households, age distribution, income distribution, etc.
Based on national censuses (Insee,…) and worldwide statistics
Refine your research with the attendance of an area at a given time.
Analysis of people flows: number of people and time of their passage (per day and per hour)
Traffic by car and on foot to deepen your knowledge of the local market.
Data collection based on GPS data from mobiles (100% GDPR compliant)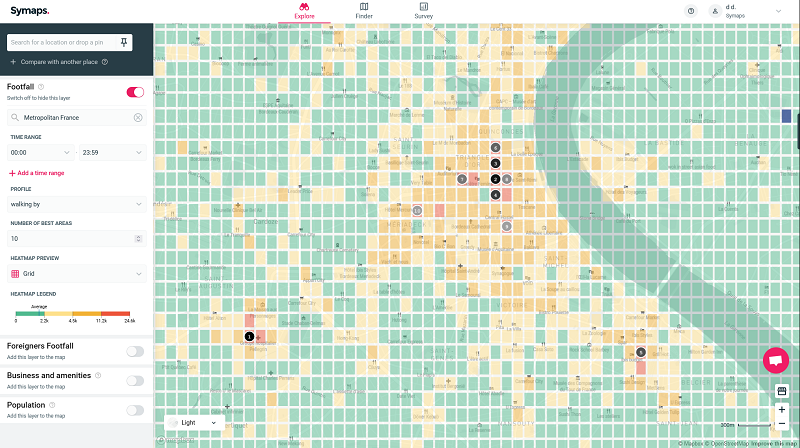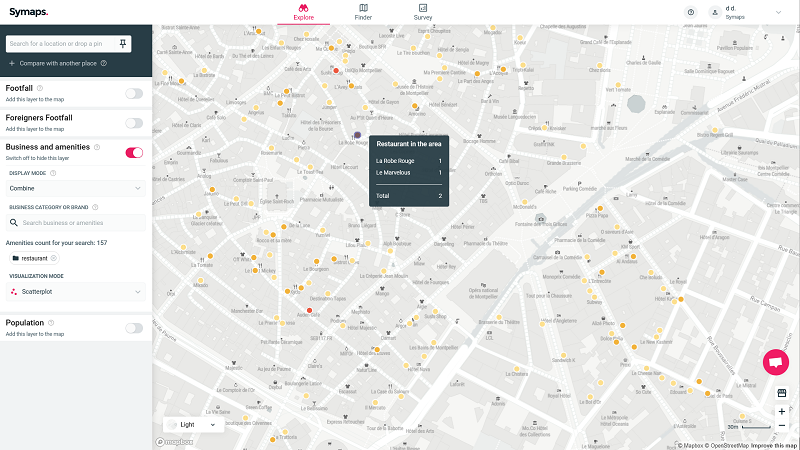 Competitive environment: business & amenities
Develop your local market knowledge to evaluate your market share.
Identify where your direct and indirect competitors are and what other retailers and points of interest already exist in the market, by brand or type (restaurant, hospital…).
Visualize areas and territories on interactive maps enriched with geomarketing data to enrich your location study.
Catchment areas and isochrones
Identify your catchment area for your future customers.
Choose your travel time by foot or car and display isochronous curves around the point.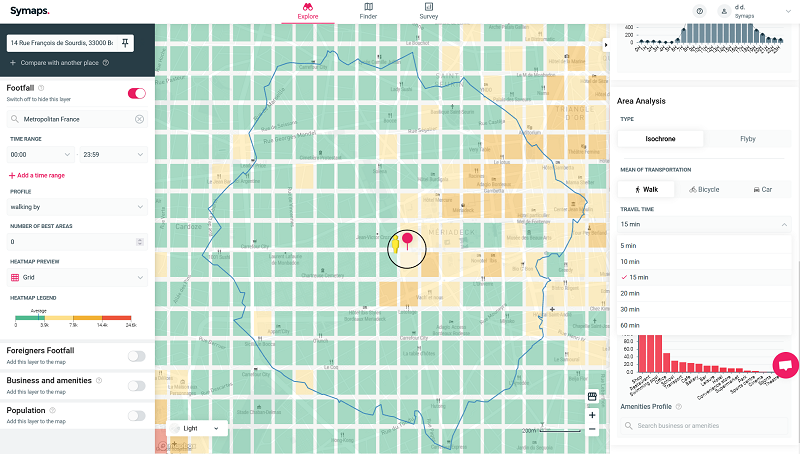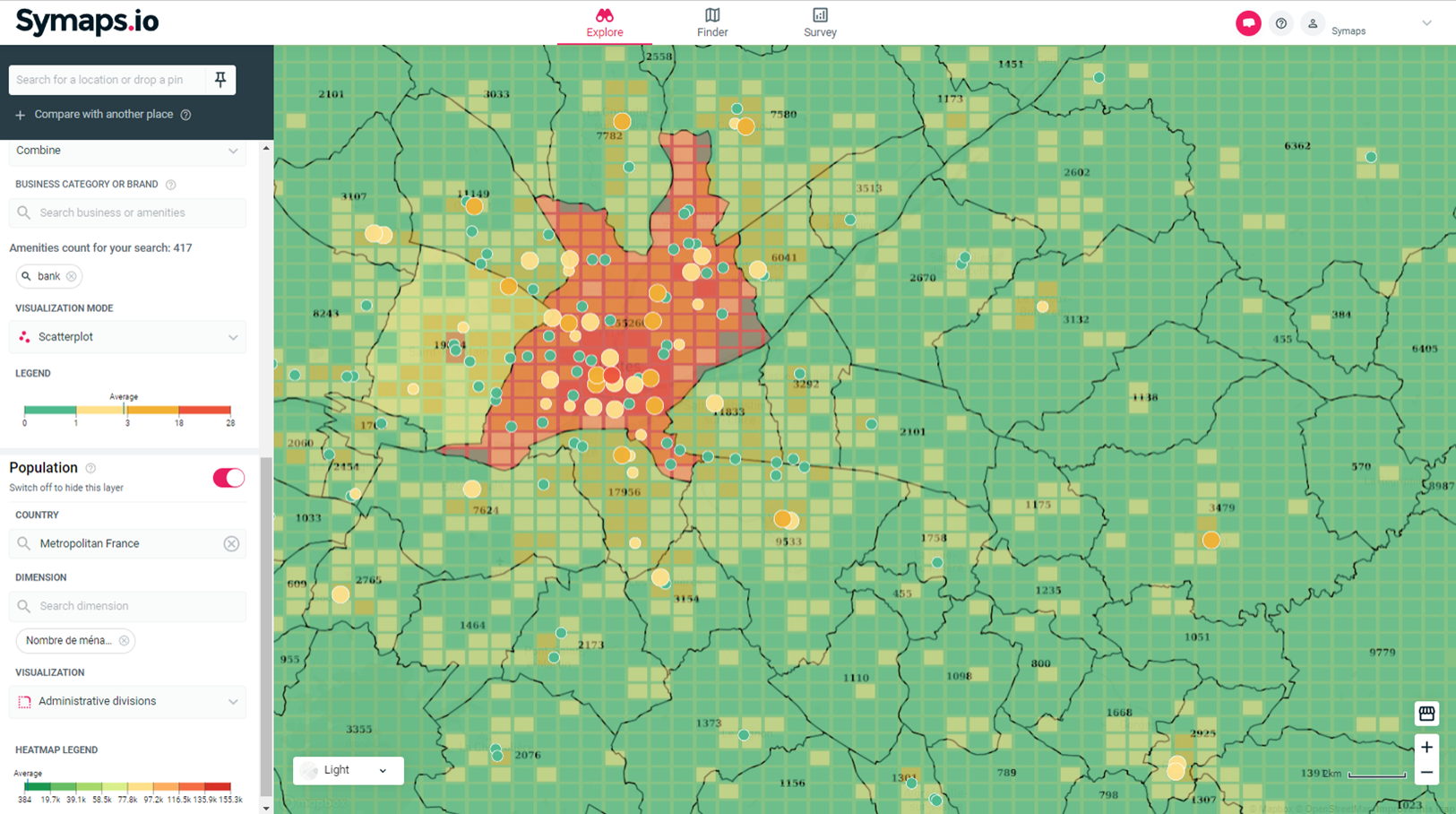 Add layers of data on the map
Visualize instantly geomarketing data on the map for your geographic analysis:
– Population data
– Footfall data
– Business and amenities
Refine your location study : compare and benchmark your implementation project in a geographical area.
Easily compare two locations with reliable geomarketing data to choose the best location for your project.
Compare with competitors' locations.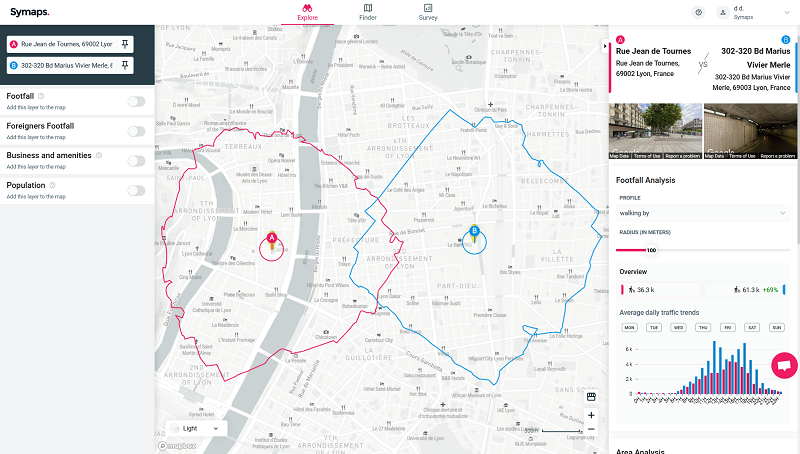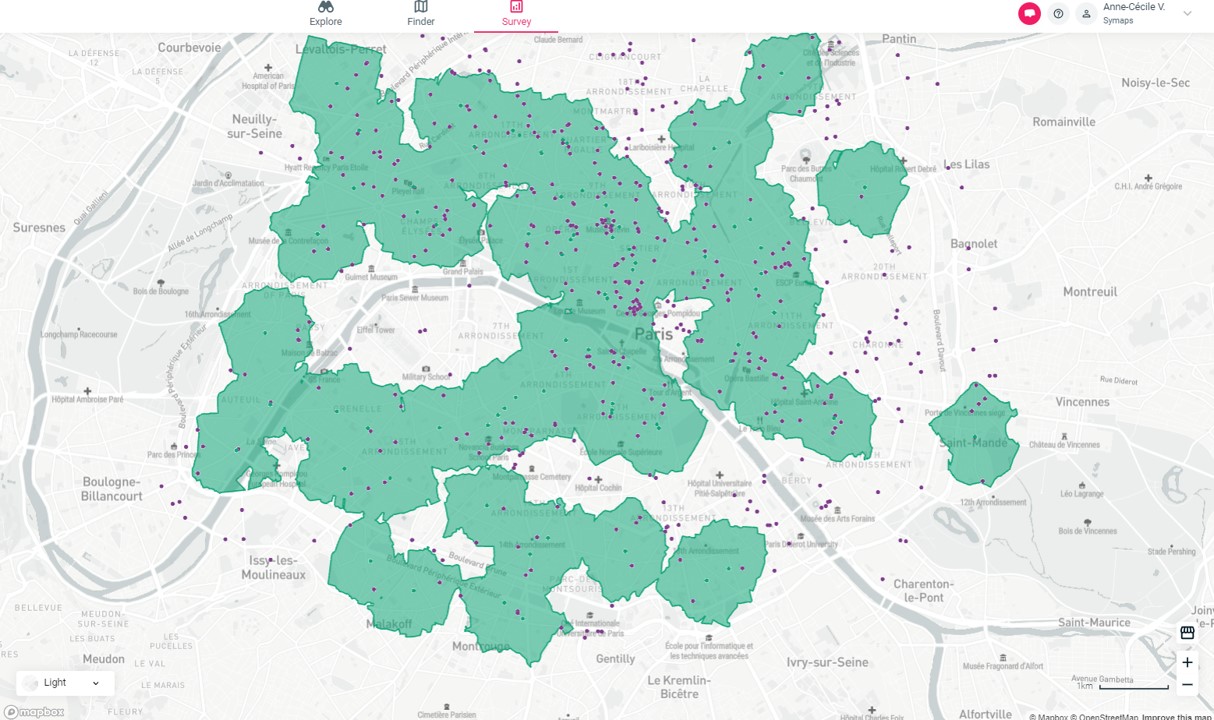 Find grey zones to optimise your network
Display your network coverage and identify grey zones.
Visualize competitor's network and determine overlaps and opportunities.
Determine the best areas for your geographical location.
Choose your criteria (population profile, footfall, business & amenities, etc.) and get ranking on best locations for your new points of sale or for the development of a network in an area or a list of points.
Ex: show areas where the number of people walking by is high between 10:00 and 18:00.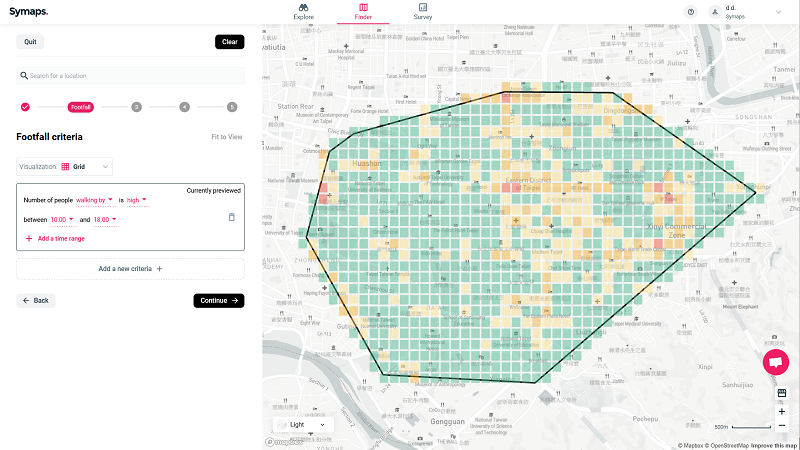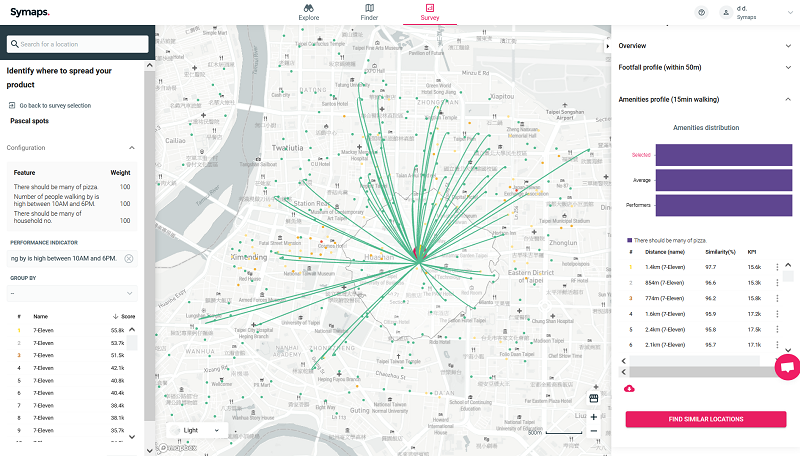 Find similar locations based on location profile.
Segment your locations and get aggregated KPI's.
Add your own data to carry out in-depth geomarketing studies
Upload, store and manage your own lists of locations (My Location).
Re-use them with previous features (Explore, Finder and Survey) to enrich your data.
Store and visualize your distribution network and your KPI's.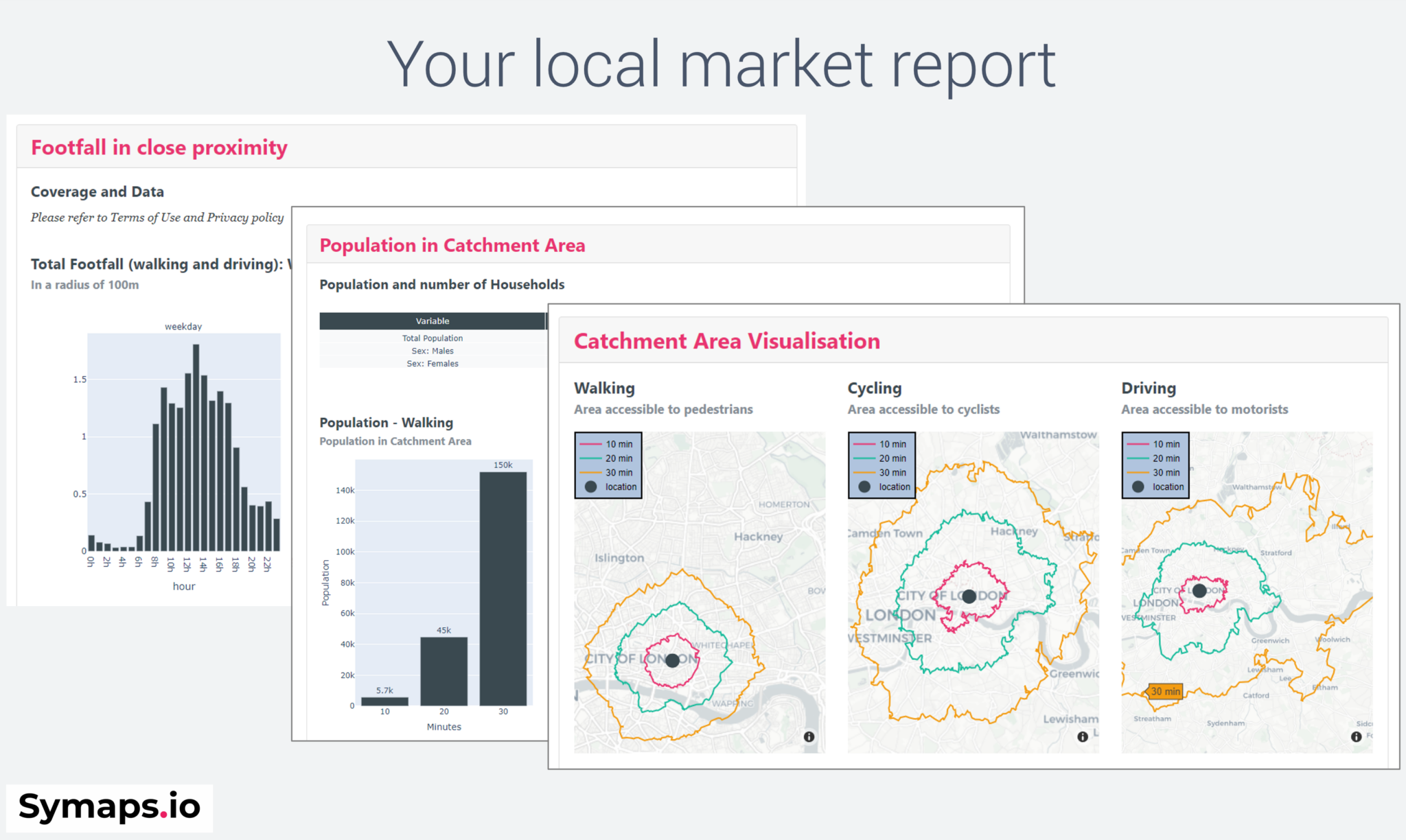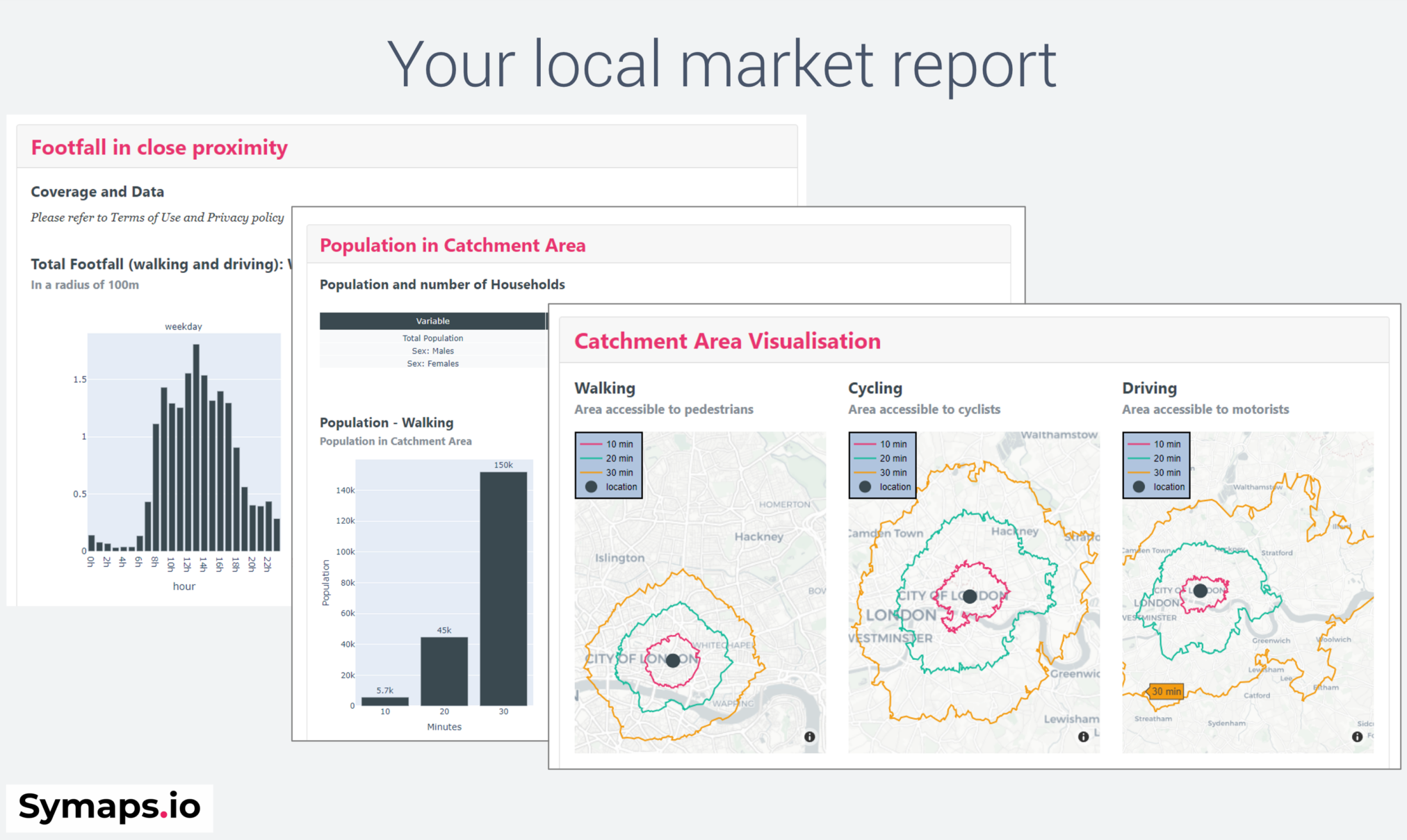 Get location reports for your local market study.
Define an area or a list of points and download excel reports with detailed criteria and scoring.
Book a Call and a Free Demo
Let's talk about your project by phone during a 30 minutes call
Get a personalised live demo
Learn more on how to save time and money for your location decisions thanks to Symaps' AI based solution